SONOS Wireless Connect, 3 Channel Amp, In-Ceiling Speakers and Volume Control Knobs
 SONOS Wireless Connect - Music Server
Brings music streaming to your favorite indoor or outdoor speakers.
Flexible. Features analog, optical and coaxial digital audio outputs.
Line-in. Plug in any device you desire.
Play your amplified turntable through your Sonos system.
Over 30 Streaming Music Service Avaiable
Control with APP for complete Music Control.
Episode Digital Mini-Amplifier with 35 Watts per Channel- 3 Channel Amp (Zones)
Episode® Digital Mini Amplifiers deliver outstanding sound quality and cool-running performance – in one convenient, pint-sized package that stays out of sight. Featuring two inputs with selectable priority and IR control with learning, they can be programmed to work with any remote or control system. 
Phantom Series 6.5" In-Ceiling Frameless Speaker, Poly Woofer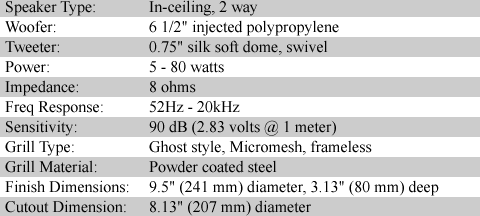 Current Audio Impedance Matching Volume Control 75W Rotary